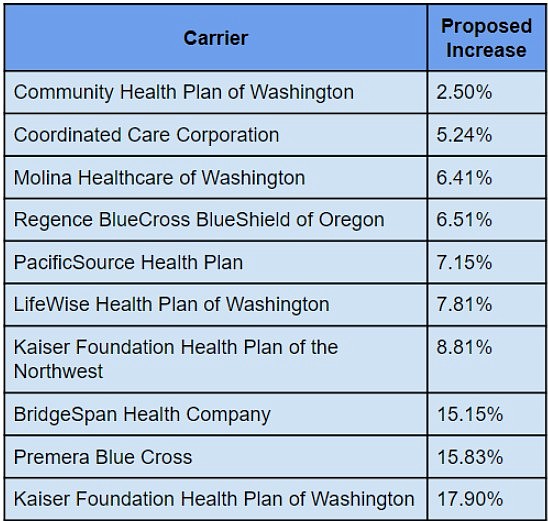 Insurers seek rate increases in individual health plans for 2024
OLYMPIA — The Washington Office of the Insurance Commissioner announced on Tuesday that health insurers who offer individual plans in Washington are asking for a roughly 9% across-the-board increase in insurance premiums for 2024, according to an OIC press release.
The proposed increases — as low as 2.5% for the Community Health Plan of Washington and as high as 17.9% for the Kaiser Foundation Health Plan of Washington — would also affect plans subsidized by the federal government and sold through the state's health insurance exchange, Washington Healthplanfinder, the release said.
"This year's proposed average rate increase of more than 9% across the individual market means that our average customer would pay almost $50 more a month in premiums in 2024," said Washington Health Benefit Exchange CEO Ingrid Ulrey in the press release.
Ulrey said the proposed increases reflect increases health care costs, and said everyone in the system — patients and providers — need to focus on reducing the cost of healthcare.
"These proposed rates indicate that some, but not most, carriers are finding ways to contain health care cost growth," Ulrey said in the press release. "Keeping the cost of individual health plans accessible is particularly important as regular eligibility checks for people on Washington Apple Health (Medicaid) resume and as people who are no longer eligible shop for a plan they can afford."
According to Shawna Crume-Bruce, a spokesperson for the Washington Health Benefit Exchange, final rates for 2024 must be approved by September.
Charles H. Featherstone can be reached at cfeatherstone@columbiabasinherald.com.
Related Posts