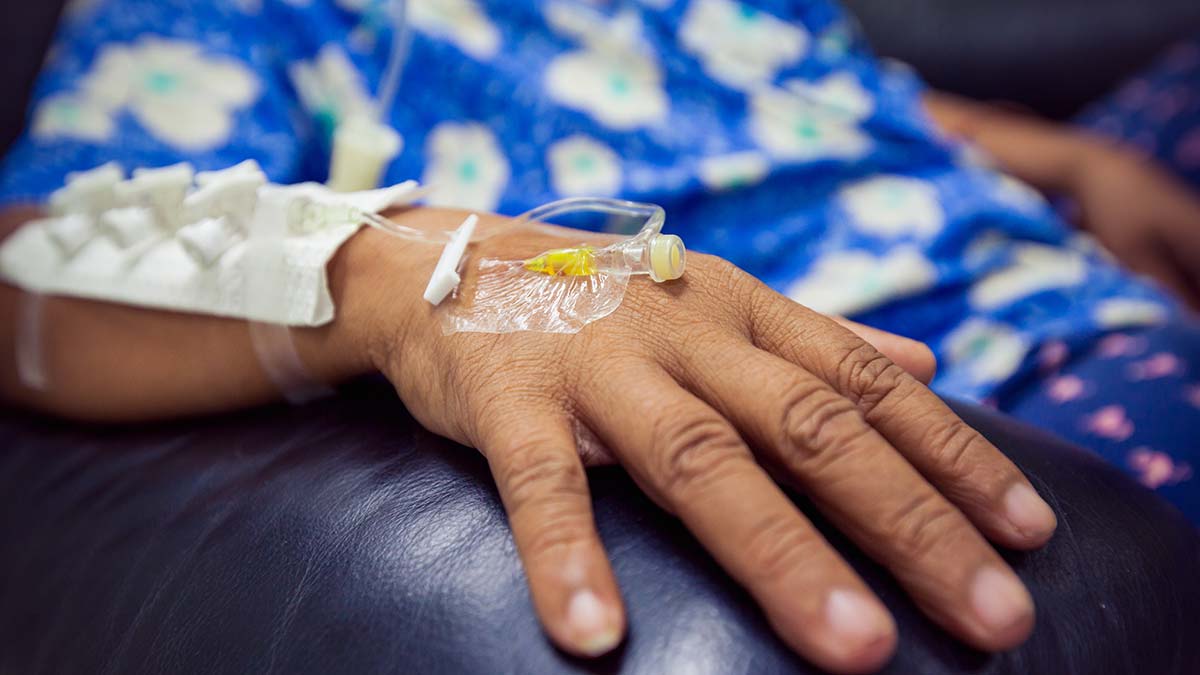 Four action areas for supporting employees with terminal illness
Stephen Bevan, the head of HR research development at the Institute for Employment Studies (IES), recently revealed his terminal cancer diagnosis. Here, with Barbara Wilson of Working With Cancer, he outlines four action areas for supporting an employee with a terminal illness.
Recent research among employers has suggested that many struggle to deal with the consequences of an employee's terminal diagnosis.
Even those with well-established and sophisticated workforce wellbeing strategies can find this a challenge – not just to their policies and practices, but also their capacity to deal with death in a compassionate and dignified way.
There are at least four areas employers need to act upon to ensure that employees with a terminal diagnosis feel informed, involved and supported.
1. Compassionate dialogue
Speaking about death and the complex emotions surrounding the end of life can be very challenging, not least in workplaces.
Employers should clarify what the employee wants to be communicated to colleagues about the progress of their illness, their treatment and any side effects. It is important to agree communication protocols, for example the employee might want to avoid "how are you?" or "but you so look well" conversations.
It is important to make it safe for employees to articulate their mood, their response to treatment, feelings towards death, career reflections, and so on. Understand how much or how little communication the employee wants with their employer and, crucially, with whom.
Organisations should ensure that the work environment is conducive to employees who want to attend work but not talk about their health or their treatment.
Managers and co-workers should be clear on the employee's motivations for continuing work. Their priority could be, for example, financial, purpose, structure or routine, social connectivity, feeling 'normal', psychological support, or a combination of any number of these. Ensure that communication, work adjustments and day-to-day management both reflect and respect these as far as possible.
It can be a good idea to nominate a 'buddy' who can act as a day-to-day contact for routine communications. An approach to communication with the employee and/or relatives after they finish work should also be agreed.
2. Practical support measures
There are everyday ways that employers can support employees with a terminal illness. Some focus on the provision of emotional support and advice, and others relate to the ways that HR policy and practice may need to be adapted.
A good starting point is initiating early contact with HR and/or occupational health to set out how the employer's policies can support the employee, considering areas such s sick leave, time off for medical appointments, pay, performance management, pensions, and death-in-service benefits. These are areas where trade unions will also be able to offer advice on good practice.
The employee should be informed about which benefits will be able to be retained – including private health benefits – and whether there is any counselling support for the employee, relatives, colleagues and line managers.
Other areas employers may be able to advise on include making a will or a living will, organising Power of Attorney, and probate. Employers can offer support with financial wellbeing and pension planning.
The employer should work with the employee to offer clarity around who should receive outstanding bonus payments, commissions, and profit shares after death.
Finally, it is sensible to allow greater flexibility in taking annual leave for employees who wish to spend time with family, especially those whose families may live abroad.
3. Work adaptations
In most cases, and certainly in the case of cancer and HIV, having a terminal diagnosis will be regarded as a disability and a protected characteristic under the Equality Act 2010. This will offer protection against unfair dismissal and guarantee that employers must offer workplace adjustments.
It is important to agree an approach to short-notice changes to working hours or days to accommodate fluctuations in wellbeing. This can include feelings of fatigue, mood swings, or if the employee needs to receive treatment.
In most cases, and certainly in the case of cancer and HIV, having a terminal diagnosis will be regarded as a disability and a protected characteristic under the Equality Act 2010."
Functional and cognitive capacity assessments linked to job demands can be valuable. These can help identify tasks that can be stressful or place physical demands that might exacerbate fatigue, for example. Another important adjustment is to review job performance expectations, targets, and objectives, including team contributions.
Any changes to job design should be explained to co-workers so that they understand why a terminally ill colleague is receiving special treatment at work. Line managers, HR and OH all need to understand the employee's treatment plan and should communicate regularly.
One element that can get overlooked is the importance of facilitating the transfer of tacit knowledge. This is especially the case if the terminally ill employee is someone with long service or specific know-how. Finding ways to share this knowledge is important, especially if it is commercially sensitive.
4. Towards death and beyond
Planning for the end of life can be challenging but is essential. None of this will be easy, so facilitating coaching for the employee, relatives, co-workers and line managers can be invaluable.
Allow for the retention of equipment such as work phones, laptops and email accounts until after death; an employee's 'digital legacy' can be something valued by families and co-workers alike. Keep the employee as 'employed' or on the books unpaid for an agreed period after death.
Offering support for dependants for a defined period after death can be valuable, both by the employee's family and their co-workers. You should also note any wishes by employees or relatives around donations, memorials and so on.
It can be valuable to offer support around accessing palliative care or end-of-life. Employers should have a nominated contact for these conversations if the employee is too ill to communicate in their final weeks.
Agree how the employee wants the circumstances of their death to be communicated. For example, many object to phrases such as 'lost their battle' with cancer while others dislike 'passed away'. Employees may object to (or actively want) spiritual or religious references, for example 'gone to be a better place' and other such euphemisms.
Death remains a 'taboo' subject, especially at work, so everyone involved in supporting a terminally ill colleague can be expected to feel awkward, cautious and unsure."
Another practical area of support is to help employees and relatives manage post-death practicalities. This includes obvious things such as pensions and care for dependants but may extend to other less obvious support such as caring for a pet.
Towards a dignified ending
Death remains a 'taboo' subject, especially at work, so everyone involved in supporting a terminally ill colleague can be expected to feel awkward, cautious and unsure. Sometimes the employee themselves can be the most comfortable or confident participant in the workplace conversation about death, helping others to learn what are the most acceptable and helpful ways of discussing this.
OH and HR professionals can play a major part in brokering compassionate but pragmatic conversations about the best ways to support a colleague with a terminal diagnosis because they know what practical assistance the employer can offer. They should also understand that living and working with a terminal illness can have profound psychological consequences for both the employee and their co-workers.
By speaking from experience, candour, authenticity, realism, honesty and compassion, managers, HR and OH professionals can make a big difference as the terminally ill employee navigates the news about their diagnosis, concerns about the financial impact, the prospect of ongoing treatment.
Stephen has reflected on his terminal cancer diagnosis in a personal blog post for Hospice UK.
Related Posts